The XVI International Symposium on Plecoptera
The XVI International Symposium on Plecoptera, held jointly with the XII International Conference on Ephemeroptera, met June 8-12, 2008 in Stuttgart, Germany. Dr. Arnold Staniczek, Curator of Entomology at the museum, and his team organized and hosted the event attended by more than 120 participants from at least 34 countries. Fifty eight oral presentations, 64 posters and three invited lectures were presented around a mid-conference tour of the Cistercian Monastery of Bebenhausen, the city of Tubingen, and Hohenzolhen Castle, Hechingen. The conference dinner on Thursday evening was held at the Schloss Rosenstein Castle, present site of Museum Schloss Rosenstein. Awards were presented by the Mayfly Organizing Committee to Dr. Ingrid Müller-Liebanau, Dr. Jan Peters, and Dr. John Flanagan (in absentia) in recognition of their contributions to mayfly research, and the International Society of Plecopterology presented Lifetime Achivement Awards to Dr. Peter Harper (in absentia) and Dr. Ignac Sivec. Dr. Peter Zwick, Dr. Richard Baumann and Dr. Ken Stewart were also recognized for their contributions as past editors of Perla. Dr. Yasuhiro Takemon and colleagues will host the next conference in Yamanashi, Japan.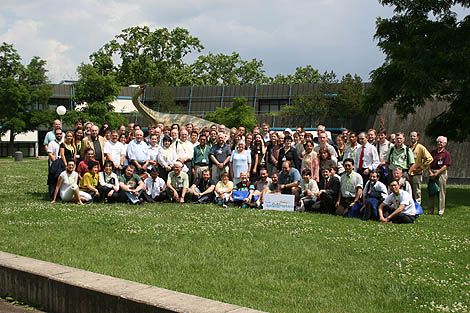 1
2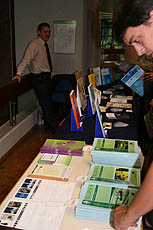 3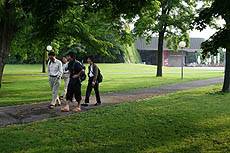 4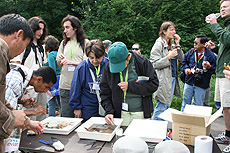 5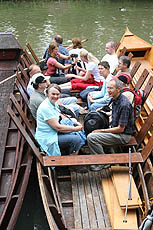 6
7
8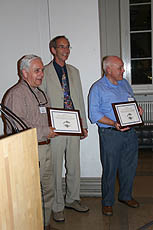 9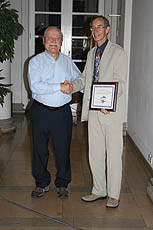 10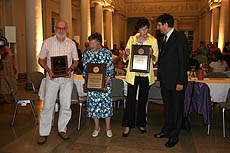 11
Fig. 1. Participants gather on the museum grounds for a group photo.
Fig. 2. Meeting room in the museum at the beginning of an oral presentation.
Fig. 3. During coffee break participants browse the Illiesia display in the shadow of Taylor & Francis.
Fig. 4. Yu Isobe and friends take a stroll on the museum grounds. The main hall of the museum is seen in the background.
Fig. 5. After a tour through the Cistercian Monastery of Bebenhausen, a group of intensive collectors check out the morning catch.
Fig. 6. Dr. John Brittain captain one of the mighty vessels up the river in Tubingen.
Fig. 7. Peter Zwick and colleagues renew aquaintances in the courtyard of castle Schloss Rosenstein.
Fig. 8. Ed DeWalt and Dick Baumann must be looking for Boris.
Fig. 9. Dick Baumann and Peter Zwick receive awards from John Brittain for their past service as editors of Perla.
Fig. 10. Ken Stewart is presented with an award for past service as Perla editor by John Brittain.
Fig. 11. Ignac Sivec, Ingrid Müller-Liebenau and Jan Peters display their lifetime achievement awards for Arnold Staniczek.